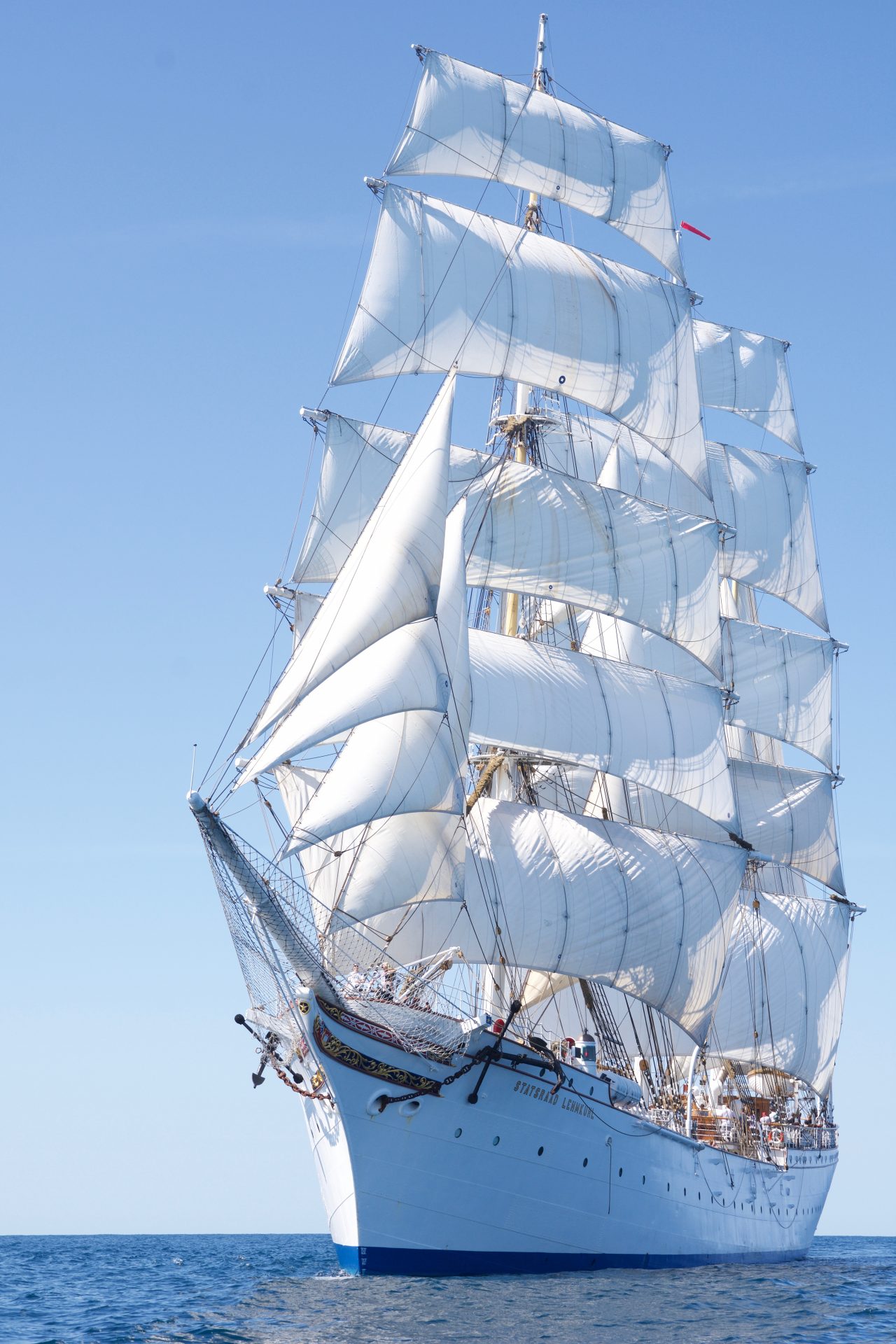 I think Jonas is up in the main skysail.
You just can't see him because
the sail is in the way.
Yes, this blog has been hijacked by me. Brian Eve, aka Toolerable because Jonas has been away far too long, I'm sure you are all worried sick about him.
Fear not. The Statsraad Lehmkuhl has the latest in internet technology considering what you would expect in a vessel of this vintage.
In other words, his connection is so slow, he can hardly websurf, let alone post. Jonas has been able to send me a few emails, however.
In preparation for this guest post, I have been learning some Danish:
Hun har heste. Ænder drikker vand. Vi læser aviser. Elefanter og skildpadder er vegetarer. Elefanter spiser ikke svinekød, og drikker ikke vin. Jeg drikker øllene. Kvinder spiser ikke kartofler.
Danish is a very serious language, and should be used sparingly.
Jonas joined the ship this time in Norfolk, Virginia. He was there long enough to host Don Williams for an evening, which sounded like great fun.
Shortly after Don's visit, there was some kind of fancy cocktail party that he wrote to me about:
We had a cocktail party on Board, and there were several admirals, one 4 star and a 3 star plus a bunch of regular ones. Some generals and the likes too. I talked to a Danish Brigadeer general, and sone of the very high ranking US admirals.
The admiral was actually a bit of an accident. Because I was talking and joking about horses with a Portugese colonel who was the chief commanding officer of the Portugese Cavalry officers School. And suddenly this senior admiral was trying to get past us and the Portugese almost jumped to attention and excused so much that we didn't get out of the way immediately.





So I felt that I had to explain that it was my fault since I had started talking about horses, but the admiral was OK with it all.





But damnit there was a lot of brass!
About a week ago I got this update:
We have passed the Newfoundland banks, and are now well underway towards Norway. Yesterday we saw icebergs, but luckily we didn't crash into any of them.
That's always good to know. Sadly the ships bingo tournament was postponed for a day due to the weather.
Yesterday I got this update:
Things are going well out here.

We are constantly heeling 20ish

degrees

to one side except for the occasional dip to 30

degrees

. The speed is around 12 knots, and we hope to reach Norway in 3 days.
I suppose this means everything on board is as normal as could be on such a ship.
Woodworking related, he has told me that on his plans for things to make are finishing up a box he is working on to hold his home-made collection of drafting whales. Also, last time he was home he milled a giant beech log and got several huge slabs for table tops, and also a single, six inch thick slab for another Roubo bench. We all look forward to seeing pictures of these.
Jonas, do us all a favor and ask your son to take some pictures. :)
I'm not exactly sure when Jonas will return from this rotation on his ship, but I'm looking forward to reading on this blog about how his new job is going.